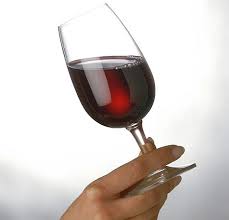 I love red wine!  And I am always looking for different wines to try.  If anyone out there is willing to share their favorites, let me know.  I would love to try them as well.  I am looking forward to hearing about your favorites, and why you like them!
Here are a few of my favorites.
1.  Marques de Riscal, a Spanish Rioja Reserva, is one of my favorites.  A Spanish Reserva is usually aged 3 years after the grapes are picked and one of those years in Oak.  This makes the oak subtle, but distinct.  This is a fantastic wine, goes with everything.
2.  Francis Ford Coppola Black Diamond Claret.  Another one of my favorites, and a great treat wine.  A rich dark color, the 2006 is a favorite, because of the long cool season that year.  Grapes didn't get harvested until September 26th that year and it makes for a smooth wine.
3.  Chateau de Serame.  I am not usually a fan of french wines, but I really like this one.  The 2004 is one of my favorites, and I do like the 2001, but it does have more of a kick to it.   Hints of Black Plum and Blackberry's, it has a great aroma.
4.  Shiraz – I love a good Shiraz, including the french one Fat Bastard and the Australian Shiraz Coonawara.   I also really like the Jacob's Creek Shiraz from Austraila, and it's a great value, and under $15.
I look forward to hearing from you and telling me what your favorites are. 
Cheers,
Darlene