Thursday, February 18th was National Drink Wine Day.  Now that's a holiday I can get behind.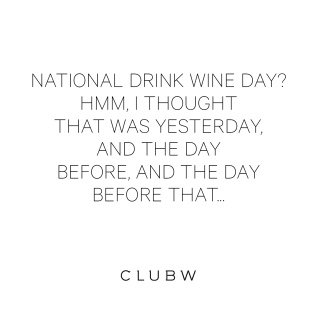 And it was fun communicating with my friends and sharing what they were celebrating this glorious holiday with.  Myself… Here's what I had… something very different for me, but very enjoyable.
This is the Chateau Routas Cyrano Syrah made by the Murray Family in Provence France.  Whenever I see the word Cyrano, I think of Cyrano de Bergerac and that reminds me of the lovely nose on this wine.  (Ouch, pardon the pun!)  Lovely cranberry flavors with herbal notes, this wine also had good tannic structure, and paired well with the creamy linguine I had for dinner.  This wine is around the $17 which made it even easier to swallow.
My friend Anthony texted me that he was enjoying this lovely Shiraz from Vina Maipo.  This Chilean beauty is full of rich black fruit, herbs and chocolate.  This stunning wine has won many awards, and once you've tried it you will understand why.  A great treat at around $35!
My friend Judy was really into this Californian Red Blend called 'The Cleaver'!  This wine was designed to go with meat.  As a matter of fact, the slogan written right on the bottle says 'A must for meat – just ask your Butcher'!  It is extremely smooth and really coats your palate, and sticks around.  It is 46% Zinfandel which provides rich fruits, 44% Syrah adding some spicy notes, and 10% Petite Sirah, which is also called Durif, provides tannic structure and spicy fruit flavors.
This is my home Friday night.  Fireplace on, glass of wine, cheese and baguette and a great book.   This is why I absolutely love Friday's.    Which brings me to my wine of the week…
The Assembly Old Vine Zinfandel.   Assembly means a group of people gathered together for a common purpose.  And to the makers of this wine, wine is the perfect reason to get together with friends.  Rich berry fruits, spice, with notes of dark cherries and mocha, make for a great wine.  A smooth easy drinking wine that is medium-bodied on the palate and very food friendly.  I love Zinfandel, and I love the fact our local liquor store is bringing in some new ones.
Today must be a day to celebrate by drinking wine, right?  After all, it is Saturday.
Till next week, Cheers
Darlene