Most people think the big football game on Sunday is all about the beer.   I wrote this blog last year on this weekend to share my favourite wines with football snacks!  Thought I would share it again.
Yesterday at work, the vacation day notifications were piling in, as people were taking holiday days on Monday so they can stay up and watch the big football game tomorrow.  It's a great day with everyone's favorite snacks, and although beer is probably the biggest beverage of choice for tomorrow, there are those of us that are true blue wine drinkers.  And wine is a great beverage for those Super Bowl snacks.
One of my favorite foods in the world are chicken wings.  I love them dry spiced, saucy and even hot.  The National Chicken Council estimates 1.33 Billion wings will be eaten tomorrow.  Over a billion wings!  Not bad for a what used to be the throwaway part of the chicken.  Chicken wings were born at the Anchor Bar in Buffalo New York in 1964.  And which wine goes perfect with chicken wings?
Riesling!  I love Riesling and here are two great examples and both hail from Washington State.  The Charles & Charles and the Kung Fu Girl Riesling are vibrant and fresh with gorgeous flavors of peaches and lemons.  The acidity and hints of sweetness in some Rieslings make it a great compliment to spicy wings!  If you like something a little sweeter, try this wine
The Jacob's Creek Moscato is a little sweeter than a Riesling.  Serve it ice cold and it's a great accompaniment to those wings.
You know what else gets eaten a lot on Super Bowl Sunday?  Pizza.  It is the biggest day of the year for pizza sales, followed by New Years Eve, Halloween, the night before Thanksgiving and New Year's Day.  One pizza company, it's drivers will log 4 million miles tomorrow.  And between the big 3 pizza companies, 4.4 million pizzas will be ordered.   That's a lot of pizza.  And you know what goes with pizza?  I realize 325 million gallons of beer will be consumed tomorrow, but in my opinion, wine tastes better with pizza.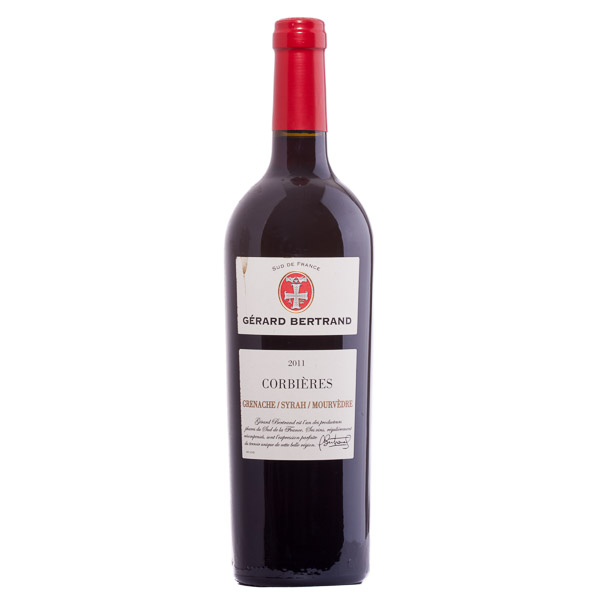 The Gerard Bertrand Corbieres which is a blend of Grenache, Syrah and Mouvedre, commonly referred to as a GSM, is a perfect pizza wine.  From the Languedoc region of France, this is a $20 bottle of wine that tastes like a $40 bottle of wine.
Another great wine that goes well with pizza is Petite Sirah.  Very common in blends, some winemakers are doing a fantastic job of making Petite Sirah the star grape, and The Crusher from California is a prime example.  81% Petite Sirah with small percentages of Merlot, Barberra, Tempranillo and Malbec added in, this wine is full-bodied and rich, with notes of chocolate. And it's $20 and a steal of a deal
And now for my wine of the week….
Italian awesomeness!!  Piano Del Cerro Aglianico Del Vulture is an Italian wine from the Basilicata region in Italy.  Monte Vulture, an extinct volcano which dominates the skyline and landscape of northern Basilicata, is an area where amazing Aglianico grapes are grown.  Many people are not familiar with Aglianico grapes.  They are mostly grown in the southern region of Italy, especially Basilicata and Campania, however it originated in Greece and was brought to Italy by Greek Settlers.  This is a spectacular treat wine, coming in at $38 a bottle here in Nova Scotia, but worth every penny.  The fruit was amazingly rich but it bought the palate to life.  It was an explosion of flavor in the mouth, that's the only way I can describe it.
Have a great Super Bowl Sunday and if you're not into football, there's nothing better than a great book and a good glass of wine.
Thanks for reading, till next week Cheers
Darlene