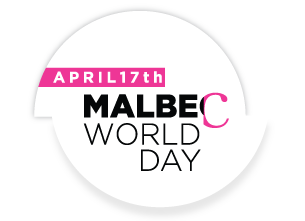 This past Tuesday, on April 17th we celebrated World Malbec Day.  The day the entire world comes together to celebrate Argentina's premier grape varietal.   There are celebrations in all corners of the earth, from Australia to Africa, from Germany to right here in Nova Scotia and throughout Canada.
Although Malbec is now known as the grape of Argentina, it's origins hail from France.  At one time it was one of the grape varieties allowed in a Bordeaux blend, and was also planted in the Cahors region of Southern France.  It fell out of favor in Bordeaux after the great frost of 1956.  Even though the frost hit Cahors as well, Cahors replanted Malbec.   Bordeaux started planting Cabernet Franc and more Merlot.  AOC regulations say a red wine from Cahors has to contain 70% Malbec with the remainder being Merlot and Tannat.
World Malbec Day is celebrated on April 17th because it is on that day Argentinian President Dominigo Faustino Sarmiento decided to make it his mission to transform the Argentina wine industry.  And while Malbec plantings were declining in France, they were sky-rocketing in Argentina.
Let's start with my favourite Malbec.  This wine is the epitome of why Argentina has risen to fame in the Malbec world.  Well structured on the palate with gorgeous fruit and because it was aged for  9 months in 2-year old French oak, it's smooth without being oaky!  It's one of the best Malbec wines I have ever had.
The Achaval Ferrer is $33 a bottle, and while worth every penny, we aren't drinking that every night of the week.  Also hailing from Argentina is this Catena Alamos Malbec, a family that has been making wine for 100 years.  This is considered a high altitude wine, which means the grapes are grown at high altitudes, which many Argentinian wines are.  The Vineyard says it helps make the wine bottled poetry, and at just $16.99, you can enjoy this poem any night of the week.
And now for my wine of the week, we are going to continue with our bottled poetry theme…
This is Message In A Bottle, the wine from Sting and his wife Trudie Styler.   They have recently bought a home in Tuscany and ventured into making wine.  They named their wine after his 1979 hit Message In A Bottle, by Sting's band The Police.  It is 70% Sangiovese with Syrah and Merlot added in, and it is spectacular.   This is available here in Nova Scotia on a very limited basis so if you see one, be sure to pick it up .  Its the ultimate treat.
Thats it for this week
Till next week, Cheers
Darlene