Tomorrow, I am going to run my very first half marathon.  These two ladies, my friends Beth and Kathy, are two of the 8 other ladies that will cross that finish line with me.  9 of us ladies from our running group are travelling to the province of New Brunswick to run a total of 21.2 kms.  Believe me when I will tell you, a glass of wine will be in order.  (Maybe 2!)
Like this gorgeous Pinot Noir from Oregon.  I had several fantastic Pinot Noir Wines at the recent Festival of wines, and this one was amazing, for under $30.  Given 90 Points by The Wine Advocate, I give it an enthusiastic two thumbs up.  Gary Horner is the talented winemaker of this incredible Pinot Noir and the winery says its goal is to make the best Pinot Noir under $20 (that's American prices – Keep in mind the Canadian exchange).  This is definitely achieving that goal.  Smooth on the palate, with a great finish and notes of candied orange peel and cherries.  Goes with anything you would like to serve.
It's been a few years since I've written about this wine, the Kilikanoon Kilerman's Run Shiraz, but I decided to tell you about it again in honor of my upcoming half-marathon.  This is a Shiraz from Southern Australia, and it's such a great value.  At $17, it is a non-guilty pleasure.  It's very plush on the palate with notes of cherries and toasty oak, and a great value wine all around.
And now for my wine of the week…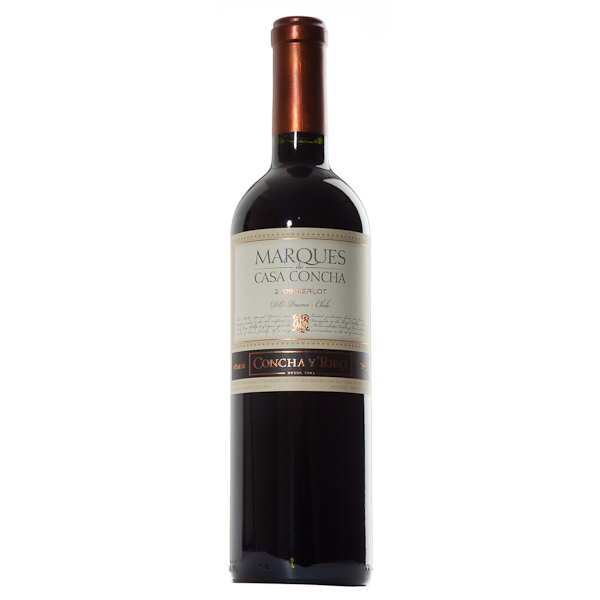 For my wine of the week we are heading South to Chile, and a fantastic Merlot.  Merlot continues to be a favorite of mine, because of its easy to drink characteristics, it is very food friendly and it's lush and juicy on the palate.  Although this grape made its way to Chile in the mid 19th Century, it wasn't until the 1990's that Merlot became popular in Chile.  Depending on where the grape is planted, Merlot from Chile can be fruity and friendly to remarkably vibrant.  This Marques Casa Concha Merlot is on the remarkably vibrant side.  Gorgeous flavors of black currant, plum and vanilla make for a great wine.  It's $25 a bottle, and fabulously delicious.
Well that's it for me for this week.  My running friend Beth said to bring two of these to New Brunswick!!  Next week I will tell you about my half-marathon and if I got to cross that finish line.
Cheers
Darlene