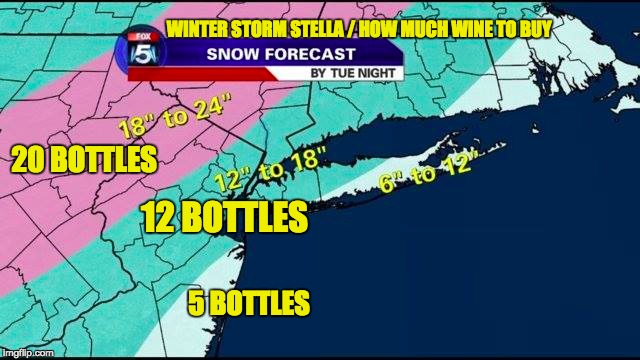 I was really hesitant to call this week's wine blog 'Storm Wine'.  I would not want to give the impression I was making light of the catastrophic outcome Hurricane Dorian has had on places like the Bahamas.
I am sitting in my home in Halifax Nova Scotia, sipping a coffee, watching it rain, watching the wind pick up, and waiting for Dorian to hit as a Category 1 later this afternoon.  Mild, compared to the devastation of how it has hit other places, but scary just the same.  Wind and rain can wreak havoc and cause a lot of damage in communities.
I'm on the third floor, it can get breezy.  So please don't take this as making light of that situation, but if you've seen the line-ups at the Liquor stores in Nova Scotia the past two days, you would probably smile.
Here's what's in my wine rack, as I ride out this storm.
I always like to have a few white wines on hand, and I thought I would pick up the Arrogant Frog Chardonnay.  This wine is made by Paul Mas who had one of my top wines from 2018, so I was excited to try this one.  From my wine blog, The Top 10 of 2018, the Paul Mas GSM made #2.  Read that blog Top 10 of 2018
Needless to say I wanted to try this excellent priced Chardonnay ($16.99).  Although the Languedoc is not the most notable Chardonnay region in France (think Burgundy), but I really liked this wine and found it to be a great value.    It also contains some Viognier, which brings some acidity and mango flavours.  It's dry, and fruity, it had some tropical notes, and I found it not to be overly oaky.  I will definitely buy this wine again.
The festival of wines is coming up at the end of this month, and it's one of my favourite times of the year .  This year's theme is South American wines, and Trapiche is one of the most well-known names in Argentinian wine.  I had this wine last night, tasting it with my friend Amber at the NSLC.   Well, I tried it, she watched, as she is expecting her second child.   I have to say, I was pleasantly surprised.  I am not a huge Malbec drinker,  but I found the toasty plum flavours in this particular wine really really good.  It's $24 a bottle, great value.
And now for my wine of the week,,,
Yes, you are looking at an empty bottle, don't judge!   I still find it really hard to believe that this wine is $18 a bottle.  It's the Castano GSM, Grenache, (Garnacha in Spain), Syrah and Mouvedre.    A spectacular blend of the three grapes, and a perfect pairing for all those comfort foods you may want to be enjoying during the storm.
That's it for me for this week.  Stay safe everyone
Darlene