Red Thursday, Black Friday, Cyber Monday… we are being pummeled with 'sale' advertising and gimmicks and every other reason in the world to part with our hard earned money.  And I understand  it's the biggest retail season of the year, but it's getting harder to get a break from it.  I know Christmas is a month away, but I think the only store I went in yesterday was the wine store.  And scored some amazing finds.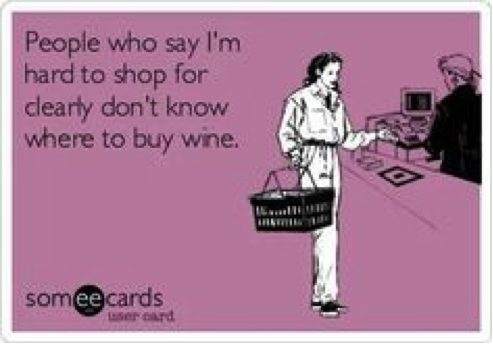 People tell me all the time I'm easy to shop for.  Well of course I am, there's a wine store on every corner.  Now I thought this neat packaging on the Vernissage white and red wine was genius.  Check it out, the packaging is shaped like purses.  And yes there is wine in there, as a matter of fact there are two bottles packed in that purse.
The Vernissage white is a blend of Chardonnay and Viognier from France, and has some nice subtle flavors of pear, apple and tropical fruits.  The red wine, in the black purse is a blend of Syrah and Cabernet Sauvignon, and I think is the perfect gift for any woman.  I love these.  And they are priced under $30 each.  I bought the red to the happy hour in my apartment building yesterday evening and it was a smash hit.  It had great fruit and hints of spice and the purse being equivalent to two bottles of wine.  At $28, that's excellent.
My friend Judy has been on a real Pinot Noir kick recently, and last Saturday night she showed up at my house with this fabulous find.  Don't you just love it when friends show up at your house with wine in tow.   This is a fabulous Pinot Noir from Chile.   The winemaker says the influence from the Pacific Ocean makes a big difference.  I found it very interesting that 20% of this wine spend six months in both French and American oak.  Only 20%,  so in no way does the oak overpower the grapes.   It's the delicious flavour that dominates this wine and its around $20 so very reasonably priced!
And my wine of the week is….
I know, it looks like an eye chart.  Maybe it's a test for when you finish the bottle.  But this was a fantastic wine and because this time of the year can get expensive, this wine is not.  It's under $18 and the blend of Grenache, Syrah and Mourvedre, commonly known as GSM, is heavenly.  I thought I heard angels sing, but then I realized I had Christmas music playing as I started the task of decorating my home for the holidays.   This wine hails from Australia, and the fruit, the herbal notes and the spice are all perfectly balanced.
As we prepare for the busiest retail days of the year, I ask you to please be kind to retail workers.  They are working long hours and are trying their very best.
Thank you and till next week, Cheers
Darlene