Dating back to when I was studying to become a Sommelier, the #1 question has always been 'What makes a good wine'?  My answe?  A wine that you like.  Question #2 has always been 'Why are some wines more expensive than others'?  Now that answer is a lot tougher to answer.  Maybe not tough, but it definitely has more factors to it.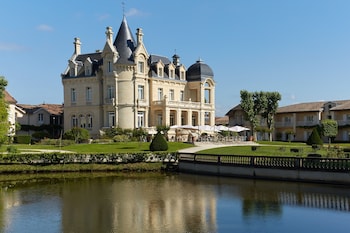 Location, Location, Location!
Like real estate, the location where the grapes are grown play a huge role in the price of a wine.  Cabernet Sauvignon grapes coming out of France's famous Bordeaux region are going to be more expensive than those coming out of Chile or Argentina.  When a region has hundreds of years of history of producing fine wines, they get to charge premium.
Chateau Lafitte Rothschild was awarded #1 Vineyard in Bordeaux in 1855 and has never lost that status.   In damp conditions they are known to hire helicopters to hover over the vineyards to dry them out!  They will not always put out a vintage to boost the price of next year's vintage.   Thats money!  And that is reflected in the price, as this bottle sellsfor about $1000.   Be careful though, because in 2012 police in China seized 10,000 bottles of counterfeit wine, with this label, but ir was counterfeit.
If you would like a taste of Bordeaux but don't have $1000 to shell out for a bottle of wine, try this one.
Vited one if the best Bordeaux wines under $30; this wine is $16.50, affordable for every wallet.  Chateau Courteillac was really turned around when Dominic Menert bought it in 1998,  and although he sold it in late 2016 to a large wine retailer in China, all the staff have stayed on to make this quality wine.
Labor!
Certain  vineyards in parts of the world are situated so that it is impossible to get equipment in to reap the harvest.   When that is the situation, you need to hire workers to go in and get the grapes.
Check out the slopes on this Vineyard in Lombardy, France.  You're not getting equipment to harvest those grapes!   As I said, champagne has many slopes.   Mini wine makers feel slopes are ideal for growing grapes because of drainage and light.
It's probably why this Ace of Spades Champagne starts at about $300 and can be as high as $650.
Now for my wine of the week….
My friend Amber  had me taste this with her this past week, and I'm in love.  Vivino, the wine app, calls it one of the Top 25 Syrah wines in Chile.  Sometimes wines from Chile get the label of affordable, drinkable quaff at reasonable prices.  And don't get me wrong, there are a lot of fine wines that come out of Chile under $20.  This wine sells for $52 here in Halifax, but it is so good, it is worth every penny.   We are actually getting a good deal, as the average price for this wine in the United States is $60 a bottle, and while doing research online about this wine, actually found a place that sells it for $85 a bottle.  So $52 is a bit of a steal, and the flavors are fantastic with a great finish that stays with you.
Well, thats it for me this week
Till next week, Cheers
Darlene