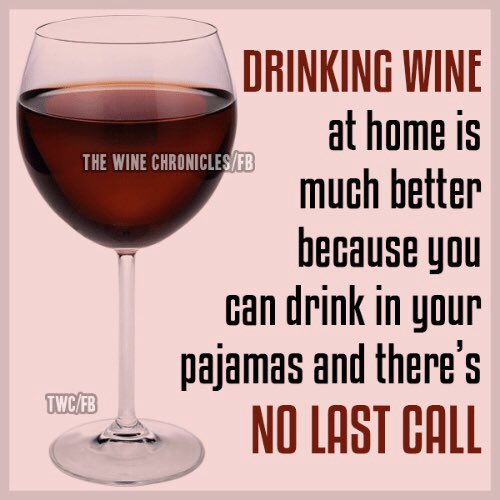 This past Thursday, April 16th, marked "National Wear Your Pajamas to Work Day" here in Canada.  Honestly, I didn't make it up.  It made me chuckle because those of working from home due to self isolating and social distancing, I'd say there were a few 'National Pajama Days' in the past 5 weeks.  Who hasn't been wearing pajamas a little more often than usual in the past five weeks?
When I saw this glass on social media this past week, I knew I want to use it.  Believe  me when I tell you, most people are going through some sort of stress during this pandemic and time of isolation and social distancing.  I'm here to give you a little break from that, and I hope you enjoy reading my wine blog.  Let's talk some wine!
You don't often hear me talk about South African wines, I don't drink them all that often.  But I do have to share when I find a really great one.  The Ghost Corner Sauvignon Blanc was awarded 93 points at the 2019 Decanter World Wine Awards and 94 Points by Master of Wine Tim Atkin.  I really enjoyed this crisp Sauvignon Blanc with its tropical notes and hints of lemon zest.  It's a real nice wine if you wanted to give yourself a bit of a treat, selling for $37 here in Nova Scotia and about $30 in other parts of Canada.
Anyone else find their budget has changed slightly?  Gas consumption zero.  Food and wine … we'll just leave it at that.
Now it's time for my wine of the week….
A person who is working at my local wine store, that I don't know, told me this was the best Sangiovese he has ever had in this price range.  Perfect.  I love trying new wines and that was recommendation enough for me. The Santodeno Sangiovese Appasimento is a great wine for under $20.  Appasimento means the grapes goes through a drying process before fermentation.  That process is used in making Amarone, for example.  The drying process concentrates flavors and sugars in the grapes, but in no way makes the wine 'sweet'.  From the Romagna region of Italy, known for Balsamic vinegard and Parmigiano-Reggiano cheese (Parmesan), this region is also putting some dynamic wines.  I love the fact this full-bodied wine is under $20.
Stay safe friends, and till next week, Cheers
Darlene